Puttshack: high-tech mini golf with a twist to sponsor upcoming networking event

by Evelyn White
It's our pleasure to announce that the upcoming Networking.London event on Thursday 28th April will be sponsored by Puttshack. Puttshack is a high-tech mini golf experience, fusing 'modern technology with innovated courses and cool vibes for one hell of a good time.'
After the Networking.London event finishes, Puttshack will be hosting a free mini golf game from 8pm onwards. There will be a drinks reception with beer, wine, bubbly and soft drinks for the first hour and 20% off drinks for the rest of the night!
'The party's at Puttshack!'
Puttshack is a mini golf experience with a techy twist, featuring a new automated scoring system, with no need for a pen and paper to keep score. Players are aiming for the highest score, with bonus points available with Supertubes, but watch out, you can lose points too if you don't avoid the hazards! There are several group packages available and a wide range of unique spaces for hire.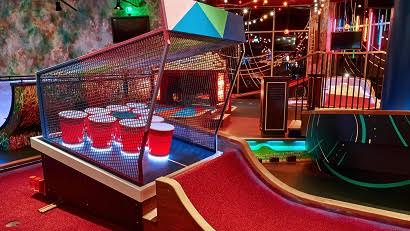 The game
Whether you're reliving your student days with their giant beer pong hole, taking on ghosts in  Puttman or bringing out your inner daredevil in 'Ring of Fire', Puttshack's crazy golf courses have something for everyone.
Puttshack's packages
The best way to experience Puttshack alongside friends, family and colleagues is to book a package. We have several group packages available including a selection of delicious food sharing platters, drinks, reserved area, and a round of mini-golf!

Exclusive hire
Hiring an exclusive area provides you with the perfect base to enjoy the Puttshack experience, all while keeping you close to the action. When it comes your time to tee off, you can step directly onto the course from the comfort of your private area.


If you would like to attend Puttshack after the event on Thursday, please RSVP to josh.cort@puttshack.com or evelyn@networking.london. Alternatively, there will be a sign up sheet at the event if you wish to decide on the evening.
Website: https://www.puttshack.com
Instagram: @puttshack